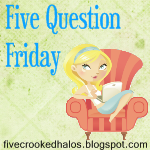 1. Do you

re-gift

...and if so, do you have a

re-gifting

horror story?
I re-gift on occasion but nothing big...no horror stories here.
2. Do you know what you are getting for Christmas this year?
Yes & no, got a Wii from my parent's & brother already but as far as anything else I'm clueless.
3. Who brings the most gifts in your family, you or Santa?
Santa does one per kid & the others are from us and other family members.
4.
What store do you love to by jeans from?
I really don't care. I hate clothes shopping.
5. Christmas meal: Big, All Out Meal or Snacks and Apps?
Big family gathering on my husband's side which my parent's & brother are always invited & usually go.
{STAY TUNED FOR SOME UPCOMING REVIEWS & GIVEAWAYS IN THE NOT SO VERY FAR FUTURE}