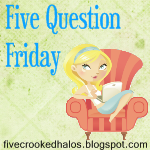 1.
Did you have a pen pal when you were little (or now)? Where were/are they from?
I had a bunch (via the Reba McEntire Fan Club) a few of which I remain friends with.
2.
If you could do a different job for one day, what would it be?
I would be a Singer.
3.
Do you remember your biggest fear from when you were little?
It's still the same FIRE...I hate it!
4. What do you think is a waste of time? Why?
Oh there are so many things but one in particular that bugs me. I can't think of one right now.
5. What is the oldest item you have in your closet?
My guitar ( that I can't play ) it's 12 years old!