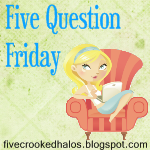 Rules for Five Question Friday: Copy and paste the following questions to your blog post, answer them, then watch for the linky post to appear on Friday morning, at which time you "linky up"! If you don't have a blog feel free to answer the questions in the comments!
1. What do you do when you have time to yourself?
I listen to music, watch t.v. or blog..I don't get much to myself though.
2. When you look out your kitchen window, what do you see?
The house next door's roof...lol
3. Who/What would you want to be reincarnated as?
Never thought of that.
4. What is your biggest pet peeve about other people's kids?
Rudeness.
5. Regular or Diet soda?
Regular
Other Blog Hops you can find me on...