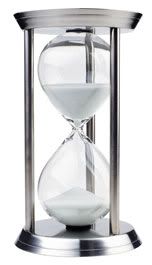 We have been quit busy lately. As most everyone knows that I went back to work in a new career field for me, Health Care. I started just before Thanksgiving. Since then I have caught pretty much every little virus there is. Until my immunity builds, well I guess I am just gonna be a bit under the weather.
I have been trying to learn to manage my time more effectively. Our day consists of waking up @ 6:00
AM
getting ready ( the kids & I ) then I take the 2 older kids & sometimes the baby to my sister-in-law's house, who takes them to & from school for me and also , bless her heart, and watches them when the hubby has work.
I have to be to work by 8
AM
& don't get off until 5
PM
, home between 5:30-6
PM
. It is
NICE
to have
REGULAR
hours though I must say.
Come home make sure the kids are fed, done their homework, bathed, ready for bed & school stuff ready for morning....then maybe just maybe a little bit of time to watch
TV
or a movie or blog.
Then off to bed by 10
PM
, or else I don't function well without adequate sleep.
***Does a schedule work for you or do you just fly by the seat of your pants?
***