Welcome Wednesday 1/5/11
Welcome to the
Welcome Wednesday blog hop
, hosted by
Take It From Me
!

Welcome Wednesday

is a great way to meet new people and learn new things as well as increase your blog followers! So let's have some fun!!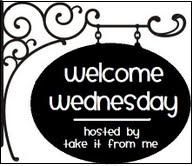 1.
Follow the

Welcome Wednesday Host
(
Take It From Me
) as well as the 2 Spotlighted Blogs of the Week. (These will make up the top three slots on the Linky)
2.
Link up your blog name and URL
with our Linky. (You only need to add your info once for it to be seen on all the blog hops)
3.
Grab our
Welcome Wednesday
button
and include it in a post about the event on your blog.
4.
Go to as many blogs on the MckLinky as you want and Follow them. Be sure to
tell them you are from
Welcome Wednesday
!
5.
Be sure to
Follow back any followers you have gained
from our Welcome Wednesday event!
Only one person replied to our email so the here is the...
------Blog Spotlight of The Week-----
1.)
Kenna from
Our Crazy Little Life
says, "I love to blog about pretty much anything and making new friend's, which blogging allows me to do. I am a mother of 3 kids ages 7 - 2 and was a SAHM up till a month ago when I went back to work as a MA (Medical Assistant), which I absolutely love. It's a nice change! I can't wait to meet you! Come on over to Our Crazy Little Life! ~Kenna"
What's neat about our Blog Hop
:
-Put the same linky list code on your blog and you'll have the exact same list!
- Your blog visitors can add their blog to your list and it will show up on Everyone's lists!
- By adding your blog
YOU MAY BE RANDOMLY CHOSEN FOR OUR BLOG SPOTLIGHT OF THE WEEK
!!!!
**Leave a comment with your blog address a
nd we will follow you back**