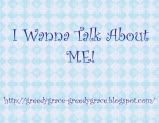 The Questions:
1. Part time, Full time, or no time?
Although I don't currently work outside the home, I consider my job as mom full time. Not to mention that I am actively seeking a job!
2. What do you do for a living?
I hope to work as a Medical Assistant soon, I just finished up school for it.
3. Scale of 1 to 10-- how much do you love your job?
I would say 10, if I could find a job, I really enjoyed my externship!
4. What does your typical work day attire consist of?
Scrubs
5. When you were a kid, what did you always say you were going to be when you grew up?
A singer, or a radio personality
6. Is your job a job or a career?
Hopefully it will become a career.
7. I hate commuting! What do you do when you're stuck in traffic?
I am not a big fan of commuting wither...I just turn the music up!!!