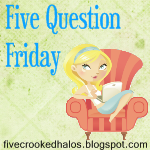 1.
If you could speak with a different accent, what would it be (i.e Australian, Scottish)?
I LOVE the AUSTRALIAN accent!
2. Can you fall asleep anywhere? (i.e floor, couch, deck)
NOPE!!! Sometimes if I am really tired I can fall asleep on the couch.
3.
Do you use public restrooms? If so, do you sit on the toilet?
Yes if I must but I do not sit directly on the seat.
4.
If you were stuck in an elevator for 24 hours, what celebrity would you most want to be stuck with?
This is an easy one REBA MCENTIRE!!!!
5.
Where did you & your significant other go on your 1st date?
We went out to dinner at Dennys, a H.S. Basketball game & a movie....I think....