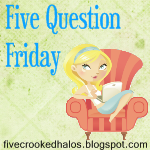 1. Do you feel guilty spending money on yourself?
I do for the most part & then when I do go shopping, say for clothes for myself, I end up buying for my children.
2. How well do you know your neighbors?
Some more than others...mostly not real well.
3. What age are you looking forward to being?
I never really thought about it before.
4. Do you get excited when the mail comes? Why?
I use to but no not now when I only receive bills.
5. What is your earliest childhood memory?
Going to Kindergarten & playing in the cool little play areas they had. Also the teacher's husband came in a few times & he was a fireman, who was really tall.
Other blog hops I am on...come join me!